Dog Grooming Services in Palmetto, FL
Zimba's Bubble House is our very own full-line pet spa. We offer a tranquil and clean environment for your pet to get pampered.
We use natural grooming products and state of the art grooming tools. Featured in the Bubble House is the HydroSurge Bath System, which uses oxygenated water to open the pores and gently remove dirt and oil leaving your pet feeling cleaner and healthier than ever. The massaging flow of the water is also beneficial and relaxing for pets who are arthritic or have irritated skin. Each pet is made to feel calm and relaxed at our cage-free facility, and are treated with a gentle hand throughout the grooming process. We welcome you and your pets to experience the difference at Zimba's Bubble House!
Zimba's Bubble House has moved back to the main store to better serve you and make every visit a convenient one-stop for you and your pet!
Address: 523 8th Avenue West Palmetto, FL 34221 US
Phone: 941-723-1715(Extension 2)
Email: BubbleHouse@PetsLifeNaturally.com
Business Hours:
Monday - Saturday 8am-5pm
Sunday Closed

Check out our services below, and click here to book your appointment now.
Fun A La Carte Services: Nail Polish in a variety of fun colors! Hair Feathers for a fun finishing touch! Hair Color for temporary, pet-safe, fun!


Bath & Brush Out
Includes a bath, fluff dry, 15-minute brush out, nail trim and file, ear cleaning and a bow or bandana.

Full Service Bath
Includes a bath, fluff dry, 15-minute brush out, and basic trim (face, paws, and sanitary trim), nail trim and file, ear cleaning, a spritz of cologne, and bow or bandana.

Premium Service Grooming
Includes a bath, 15-minute brush-out, sanitary trim, nail trim and file, ear cleaning, and haircut to your liking. The groom is finished with a spritz of cologne and a bow or bandana. *Glands and ear plucking may be performed at the request of the pet parent. These services will not be performed if there is infection or inflammation present.

Express Groom
Ideal for anxious, nervous, or fearful pets, or pet parents with a tight schedule. Your pet is groomed straight through, resulting in a shorter groom time.

Critter Oil Flea Dip
A natural flea/tick bath using a soothing and effective blend of 15 essential oils. This service is in addition to a bath or groom service.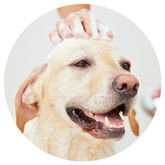 Furminator Shed-Less Treatment
An intensive, full body, de-shedding treatment. Loose undercoat and dander are removed and then the coat is re-moisturized. The de-shedding solution is worked through the coat, further loosening the shedding undercoat which is then removed with a high-velocity dryer. Your pet is then thoroughly brushed out using the Furminator de-shed tool. Ideal for allergy suffers when done regularly can reduce shedding by up to 90%.

De-Matting
*De-matting will only be done if humanely possible and with as little discomfort to pet as possible, a de-matting service should not be expected if it is severe or will harm the pet in any way. We reserve the right to refuse this service at any time.

Teeth Brushing
Help prevent Gum Disease and tartar build-up using our all-natural products!

Nail Trim
Smooth and short using clippers and/or a dremel.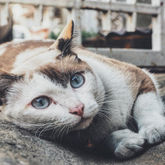 Cat Grooming
Cat Grooming. Call for details.
Come visit our pet supply store in the Palmetto, FL specializing in quality food, treats, and supplies for cats and dogs.